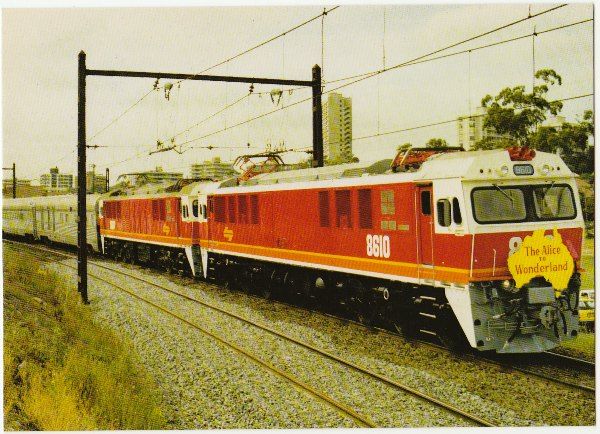 86 Class Co-co Electric Locomotive
Seen on this card on the 14th of November 1983 heading the inaugural Alice to Wonderland service past Parramatta Park west of Sydney.  These locomotives is the most powerful in Australia started operations in 1983.
 The Alice is fast becoming one of the great trains of the world.  A spectacular journey of nearly 3000km across two states to the NT and the red heart of Australia.
Locomotive 4001  A1A-A1A Diesel Electric
Designed by the American Locomotive Co (Aico) and built i nCanada.  The 20 units of the 40 class became the first mainline diesels to work the NSWGR.  Locomotives 4001 and 4002 are noted for their working of the Royal Train in 1954, for which they were painted blue.  The original line was green, as depicted in this hand coloured photogrraphs produced in the early 1950's.
These cards were one of the cards sent to me in bulk from NSW, Australia from a special friend I made through postcrossing.  Thank you so much Ate Leah D.