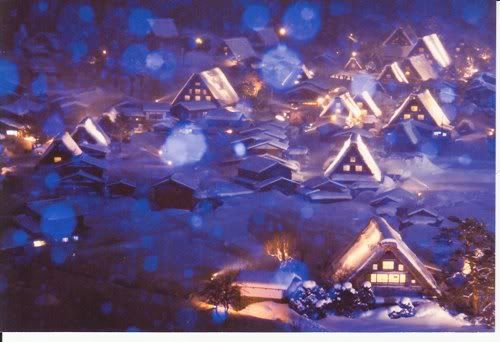 This is the most favorite UNESCO postcard of the sender, Akiko Watanabe. She sent this for our February postcard. Been so busy lately that I failed to request for cards swapping. Anyway, according to Wiki:
These villages are well known for their houses constructed in the architectural style known as gasshō-zukuri (合掌造り). The Gasshō-zukuri, "prayer-hands construction" style is characterized by a thatched and steeply slanting roof resembling two hands joined in prayer. The design is exceptionally strong and, in combination with the unique properties of the thatching, allow the houses to withstand and shed the weight of the region's heavy snowfalls in winter.

The houses are large, with three to four storeys encompassed between the low eaves, and historically intended to house large extended families and a highly-efficient space for a variety of industries. The densely-forested mountains of the region still occupy 96% of all land in the area, and prior to the introduction of heavy earth-moving machinery, the narrow bands of flat lands running the length of the river valley limited the area available for agriculture and homestead development. The upper storeys of the gasshō houses were usually set aside for sericulture, while the areas below the first (ground) floor were often used for the production of nitre, one of the raw materials needed for the production of gunpowder.
Thank you Akiko for sharing this card with me. =)
Stamps she used: