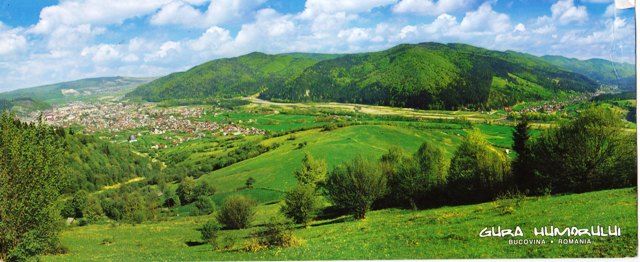 If you have watched the concert of Andrea Bocelli in Tuscani, you will surely understand what I mean. I really love that concert and I listen to it in the office almost everyday.  His kind of songs plus his soulful voice, Oh you will surely gonna fall in love with his music.
At work, I was able to download varied types of music including ones that has has upbeat tempo.  The sounds sound like the electronic drum set from musicians friend I heard one time at a music instruments store in Cagayan de Oro City.   My choice of music varies in the mood I am in.  When I am angry, I love listening to hard beat music.  Call it rock but it feels like it's hitting my inner self til I feel tired and falls asleep.  I think that's a weird side of me.
Going back to this card, this is the second postcard I picked at the Post Office last week. A summer view of Gura Humorului.
Marius posted this middle of March because he mentioned  that he is missing summer so much since the weather outside reminds him of November. Still cold and few degrees below zero with snow on the hills around.
More of his description are the following lines:
This is a summer view of my small town, from the Runc Hill.  Gura Humorului doesn't have anything in common with humour: it comes from the old Tartarian word HOMOR = quick water and it means the mouth of Humor Riverlet, the place where it flows into Moldova River.
It has flower stamps with it.